Hi. My name is Janelle. And I used to blog. In fact, I used to really enjoy it! I've been trying to find the desire somewhere inside me to blog lately and it just hasn't been there. I get in these ruts or moods and have a hard time clawing my way out. Recently I've been more annoyed with facebook and sick of hearing every little detail of some people's lives. Yes, I'm sure a bit of that is jealousy because I'm sure we all try and put our best foot forward on there. I don't want to be that to someone else and so I toned things down a bit. Really, my blog shouldn't matter because if you're reading this, I'm guessing it's because you want to and not because you are being forced too. Unless you are my mother, she has to. I'm pretty sure there is some unwritten rule in the universe that your mother MUST read your blog OR ELSE. :)
We have had an enjoyable end of the year here at the Smith home. It was definitely BUSY, but this year also felt like the holidays were more organized and I felt less frazzled. I had my shopping done early, there wasn't a lot of rushing around and we even made a little bit of time to do things together, just the four of us. I feel like that doesn't happen very often. It may be easier when the kids are older and there is more to do, or that may be harder, but in any case I really enjoyed this December.
To kick it off, I attended our Taste Testers annual White Elephant exchange. It was hilarious as usual! This year we included an ugly sweater party with it which was very fun. I wish I would have thought to take a picture of each sweater..they were so hilarious!
You might also notice that you can barely see me behind Carlie's Cindy Lou Who bow and the "Mona Lesha" painting behind us. Yep, that was my contribution :)
We also visited Temple Square to see the lights. Gavin was so excited about it and wanted to take pictures so he brought my little camera. He only took a couple and then decided the rest of the night to be fascinated by the fountains. I feel like we just ran around looking at water the whole night!
Enjoying the water!
I really wanted to take pictures of the lights, but there were a lot of people and the kids just wanted to go crazy!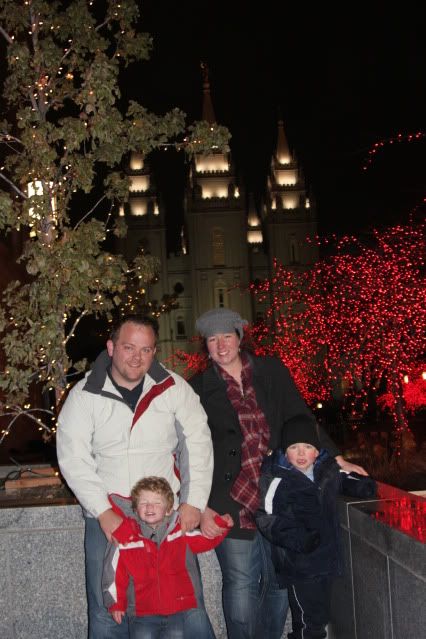 I wish someone would have told me how dumb I look in hats...I apparently thought it looked better than my messy hair....
We had our annual Smith Family cousin party and we went to see Arthur Christmas. The theater only had one other family there and I'm sure they were annoyed that they were in a movie with 21 kids and some adults LOL. I spent the majority of the movie out playing in the lobby with Max and his cousin Aly. It was actually quite enjoyable...they were so funny!
Next on the list was the Smith Family adult party...my favorite Smith party of the year! As previously mentioned, there are 21 grandkids so it's RARE that I get to just visit with the adults. I always look forward to this, even though it's only the 3rd year of this tradition. We played lots of fun games, ate good food and had our white elephant exchange. Lots of laughs and I ended up with a lot of pictures like this....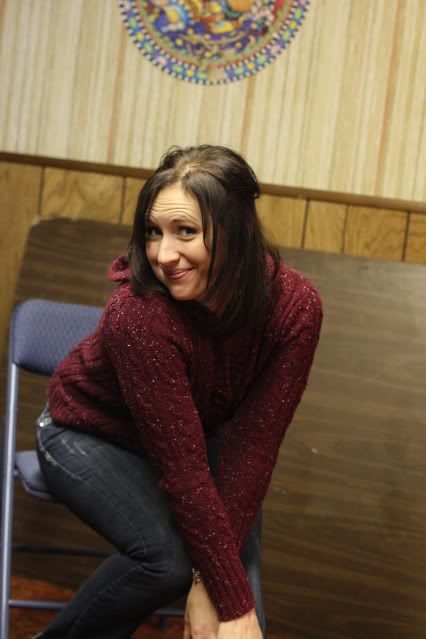 She was quite the poser.....
I like to pretend that MaryAnn is looking at me with loving adoration in this picture....
My mom had her party on the 23rd this year instead of on Christmas because some of the guys had to work Christmas night. I actually really enjoyed the not running around on Christmas day and it felt like it made this night more relaxed because the kids maybe weren't quite as nuts. Ok, they probably were just as nuts I just wasn't as stressed maybe? The food was super yummy and there were a few gifts and the main one was Mom and Al are taking us all to Disneyland in March! The kids are very excited We leave on my birthday and so Gavin keeps asking me how long until my birthday...not sure who is counting down more, me or him!
We really were trying to get a picture!
And finally something halfway decent!
All the grandkids....
I like this picture with my siblings although it wasn't very easy to get :)
Mom mom always decorates her tree so beautifully!
Just playing with my new camera lens :)
My grandparents always have their Christmas party on Christmas Eve. We have lots of yummy food (prime rib this year!) and it's tradition to do a pinata. This year it was....wait for it....a walmart store! I know, silly, but we have a big joke in our family about "Walmart Pride" with gang signs and all, so it fit nicely this year :) My grandparents spend all year collecting stuff for this pinata and make it super fun for all of the kids. I think it's incredibly nice of them to do this.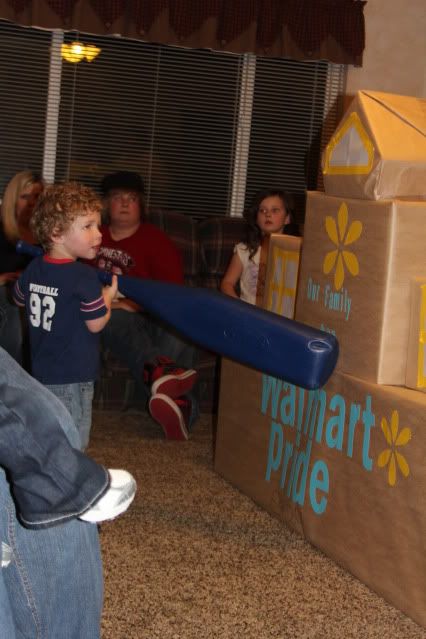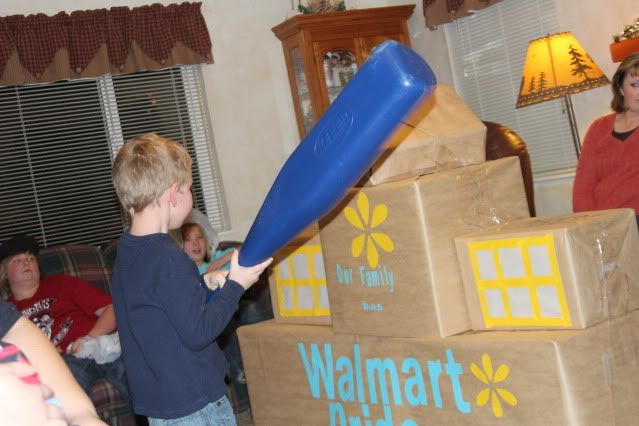 We took some pictures on Christmas Eve with the kids and our Elf, Elvis....(he's hiding in the tree). We loved having an Elf and the boys still talk non stop about him. Quick side note...Elvis flies to Santa every night to tell him if the kids were naughty or nice. He comes back each morning in a new spot and Christmas Eve is his last night here. Well, on Christmas morning Keith asked Gavin to get him something and Gavin was being a stinker about it. Keith told him that he needed to shape up and Gavin replied, "Elvis isn't here anymore Dad, I don't have to be good anymore!" Boy that lasted long.... In any case the kids enjoyed opening their gifts despite poor Maxy being sick. He was a trooper, but I think any kid would be when presents abound!
ELVIS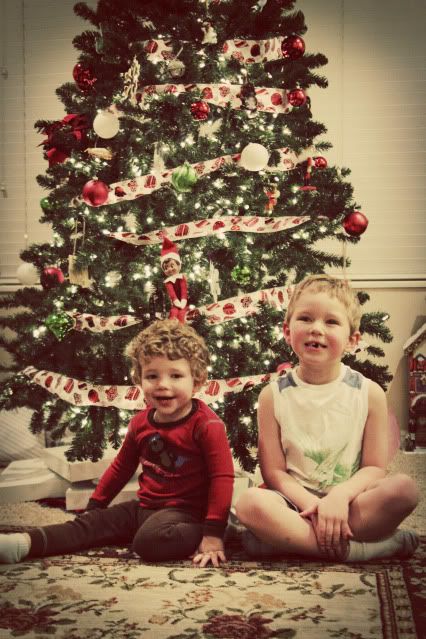 Can you find Elvis???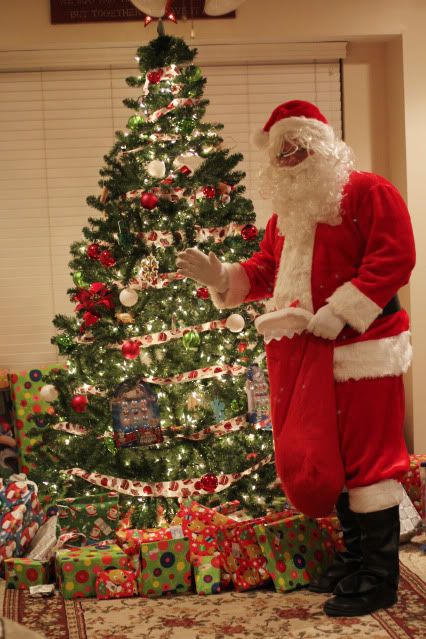 Santa had Elvis take some pictures of him putting out presents. He took pictures with the new kid Cameras the kids got...They were AMAZED!
He sure was excited about this easel!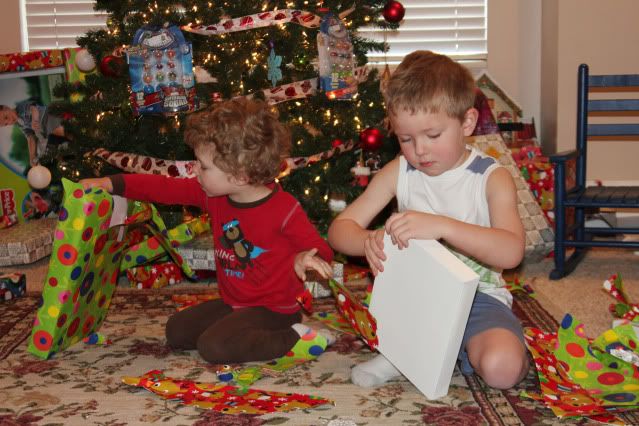 Little do they know it's just clothes in there hahahaha
And it's not Christmas without Blue Bear! He got a present that Gavin so thoughfully wrapped for him. Gavin was actually REALLY cute and wrapped up some random toys for Max without me knowing. It had his Max's name on it and everything and I had no idea he had done it! How cute!
We also took a trip to Moroni to visit Alan's family and a trip to Dad's to have yummy homemade pizza and do our present exchange. Sometimes I get tired of being the picture taker so my camera didn't grace us with it's presence those nights :)
New Year's Eve we always plan to go to Keith's parents because it's his dad's birthday. I wanted to do something nice for it so I decided to make him a cake...I love how it turned out! Usually lots of us are there, but this year most of the night was just us and his parents. I was totally ok with that because I selfishly like when I get time with just them :) Scott and Heather and the girls came to ring in the New Year with us and then it was get home and get the kids in bed! Luckily church was changing from 9 am to 11 am the following day!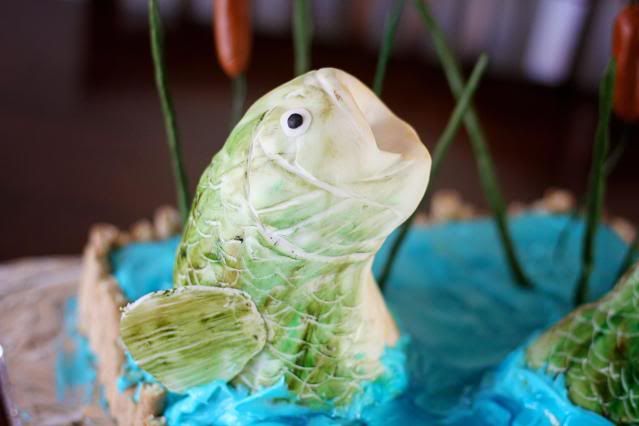 I was really kinda proud of my fish!
And now it's a New Year and time to make new memories! We have a lot to look forward to this year and lot to be thankful for. Hope your end of the year was as great as ours!