What a great Christmas we had! Party after party, family and friends, and lots of fun times together. I always feel truly blessed at Christmas time, not only because of my family, but the birth of our Savior is a wonderful thing to celebrate. I hope to make our Christmases a little more centered around Christ as the years go by and I've already been thinking up ways to do so for next year.
We had a fun family Christmas party with just my siblings. I really enjoyed just being with all of them. The family has definitely grown in size since some of us have had kids, but I love watching my family interact. My sisters (all of them) are so cute with my kids. I watch them all and really see what a true love they have for them. It always amazes me when you see people love your children beyond what you could imagine. I don't feel like I am a real lover of other people's kids. I think it's just hard for me to connect with them or I just feel really awkward, so it really amazes me to see people act so lovingly toward my own children. My parents seemed really relaxed that night and like they just enjoyed being with everyone (I hope I read you correctly in that sense Dad and Amy...) I brought my camera and didn't take a single picture. It's hard to be the photographer and referee your kids... It was our first year just having a party with my siblings and I hope it's something we continue...(hint, hint...)
Well, it came and went...The Great Smith Family Adult Christmas Party 2010! Words cannot describe how excited I was for this! I know it's only the second year running, but as I stated in a previous post, I LOVE IT! This year DID NOT disappoint. Good food, good company and LOTS of laughs! My mom in law had some clever games for us to play followed by the main event...The White Elephant gift exchange. Those who truly know me, know that I love me a good white elephant game. I much prefer those that are true white elephants and have the oddest of odd. This year may have been absolute perfection as far as the game goes. I don't think I have ever laughed so hard. Serious...side splitting, gut wrenching laughing. And no kids so I have pictures....!!!
Rob commented how he and Carol "matched"...
Keith's White Elephant gift...for those not clued in...Kevan (Keith's brother) is referred to as "Golden Boy" in our family. This had a note that read, "On the 5th day of Christmas my true love gave to me, 5 golden things...." All were gold and had pictures of Kevan :) The Inca cola was the best part because Kevan served his mission in Peru and brought this cola back. It says right on the cola "The Golden Cola"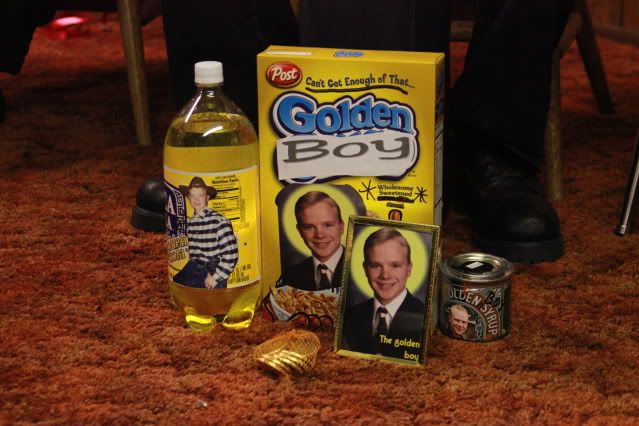 We played a game where you had to wiggle "Santa's Elf" to your mouth...it's times like these I'm glad I'm the only one who had the camera....MaryAnn sure was concentrating!!!
We played another game where you had to get the ornament from one end to the other using only your mouths...it made for some interesting photos!!!
Rob and Carla had some trouble...blood may have been involved....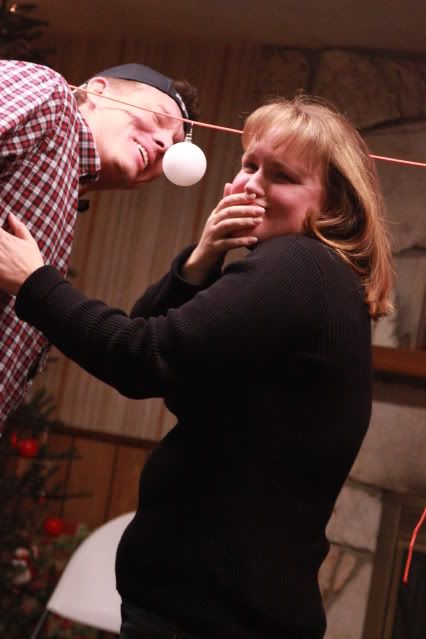 This game you had to run to the end of the room, unwrap a hershey's kiss, chew it up and race back to your team to hand off the gloves to someone else...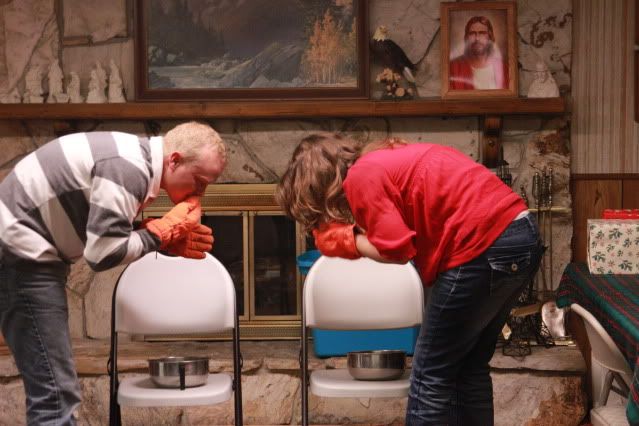 Aww....
This was my white elephant...Yep, that's mom and pops goin all American Gothic here! I blew it up to a big 20x30 and mounted it on foam board.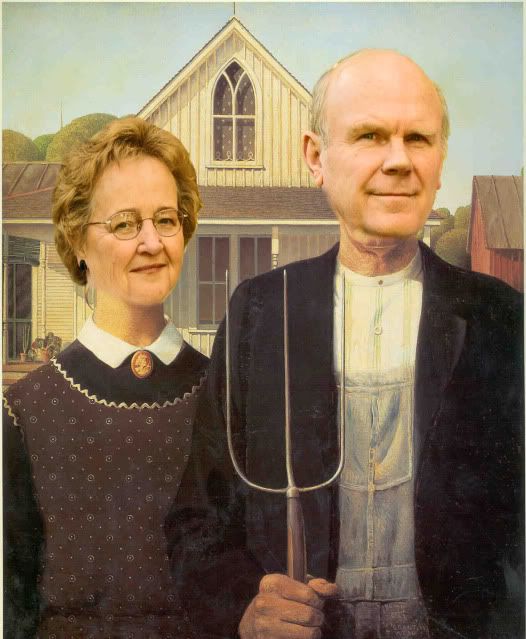 Christmas Eve is always spent at my Grandma and Grandpa's. Every year we get together and have a big meal and do a Piñata (Don't worry, it just took me an hour to remember how to type the ñ in that sentence). Might sound like a silly Christmas tradition (anyone else picturing Tevye singing Tradition right now, Dad?) but it's something that everyone really seems to enjoy. I'll have to ask my Grandma how long they've been doing this but I'm pretty sure it's since her kids were young. Each year it's something new and this year it was a big ol' can of Monster Energy drink. (It's been Dora the Explorer and even a Walmart truck to name a few...) It's also not your traditional Piñata. It's HUGE and FILLED with all sorts of trinkets and toys that my grandparents shop for all year long. I think my grandparents rock. Not because they do this for all of us, but they are so kind and loving and generous. Especially with me and my kids. They didn't technically have to be my grandparents, but I always feel so good when I know they claim me. Unfortunately I again brought my camera, but this time it didn't even make it in the house thanks to a 3 year old meltdown and my sanity close to gone for the day...
Christmas morning with the kids was great! They slept in until 9 o'clock. Go figure! That started my day off great. Gavin was so excited to see that Santa came! He couldn't wait for poky dad to get out there to open presents. However, once he finally started to, HE was the poky one! I think it took 2 hours to get it all unwrapped. Max couldn't have cared less about opening presents, he just wanted to play and climb on everything. They both seemed to have fun and were way too spoiled. I'll have to let Santa know they don't need so much next year.
This was the best one I could get of them together...
Wow...a present for me? Am I supposed to sit on it?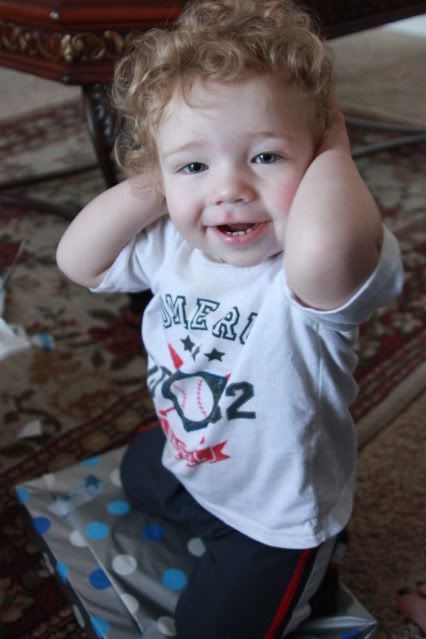 Maybe I'll just carry it around...
He was so excited!
Thrilled to infinity and beyond.....
Clearly he was excited about his new backpack!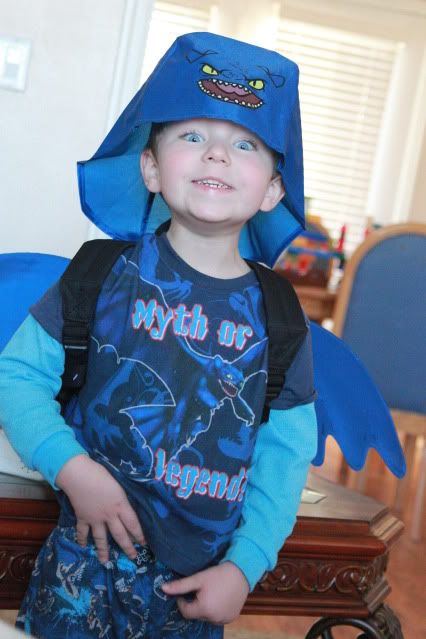 He climbed in all by himself and thought their new wagon was the greatest!
We usually spend Christmas night with my mom and Alan for their Christmas party. More good food, too much spoiling of the grandkids, some door prizes and a shuffleboard tournament. It was great minus me not even coming close on the shuffleboard tournament! My mom is so cute and can't let anyone walk away a loser so they had it all set up in brackets and their were consolation prizes for those that didn't advance. I got a Walmart gift card and my brother said I won the most out of the losers because my prize value went up since I get a discount there. What a positive way to look at the fact that I LOST and you WON, Austin!!! I did make a come back on some dice rolling game that I wasn't really understanding but got some cash for winning so who is complaining?!?!
He was thrilled about this lantern!
Isn't she precious?
Life size....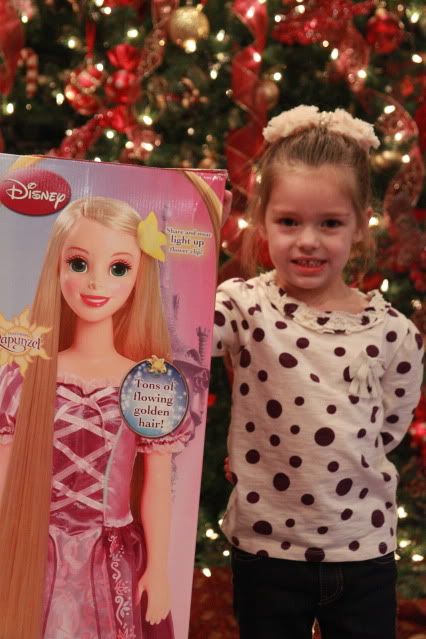 Watching a movie while the tournament was going on....
Shuffleboard....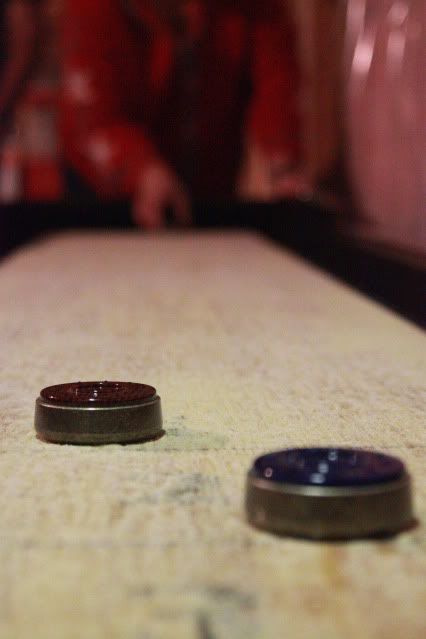 Lots of fist bumping...I didn't make them pose for this picture or anything....
All in all, what a FANTASTIC Christmas. I'm so lucky to have my family so close and to be able to spend time with them during the holiday season. I can only hope that each of them truly feels of my love for them. I am so thankful for each and every family member in my life and feel so incredibly blessed just knowing each of them. Merry Christmas, everyone!