My sweet niece Paisley turned 1 this past week and is having her birthday celebration tomorrow evening. My sister asked me to make the cake...actually, I think it may have gone down something like this:
Britt: We're having Paisley's birthday party Sunday evening...can you come?
Me: Of course! I'm bringing the cake, right?
I doubt she minded me being so forward, but after it took me all day long (and that was even with preparing half of the stuff earlier in the week!) I was starting to wonder why the heck I even offered! Just kidding...I love my little Pais and am glad I got to make this way too big and elaborate cake for her very first bithday! Can't wait to take some pictures of her smashing the top layer!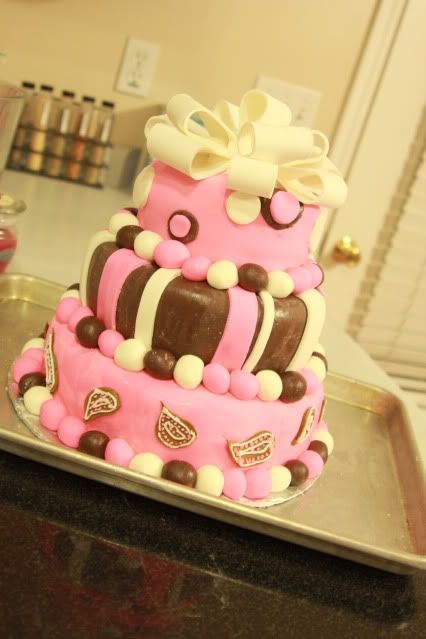 I wish the paisleys would have turned out cuter (obviously this was my main idea since it's her name and all...)I'm really not great at piping things on cakes! I struggle with getting the cornstarch off of the fondant too...especially the chocolate. If anyone has suggestions about this kind of thing, let me know!