I can hardly believe that I have been a mother for 4 years. It's amazing to me to think that he is getting so old, but at the same time, I can't remember what it was like to not have him. I'm so very proud of Gavin and all that he is. He is so creative, fun, silly, sweet and just plain PERFECT.
He wanted to have a pirate party this year. Well, I'm still exhausted from last year's
"Up" party
so this year really wasn't much of a party! His main request was a pirate ship birthday cake. It sounded really challenging to me and it was. I had a lot more plans for it, but his birthday was at the end of one of those weeks where I just had so much going on and his cake didn't turn out nearly like I wanted it to in my head! I guess the important thing is that he got what he wanted, even if it was a little sloppy!
Keith had to work that day so it was just me and the boys for the majority of the day. We played and worked on the cake. Max took a 4 hour nap and it was so nice to spend so much time with just Gavin on his special day. He loves putting up decorations so it was fun to see him be so excited while we were hanging up streamers and balloons, etc. We also painted him a cool pirate shirt and he dressed up in some pirate garb. My sister in law called to wish Gavin a Happy Birthday and he told her that he had "All the right ingredients to dress up like a pirate." What a cutie!
I love that he is hugging him with that play knife in his hand...
Isn't he a handsome 4 year old???
We made him a pirate shirt...he thought it was pretty fun!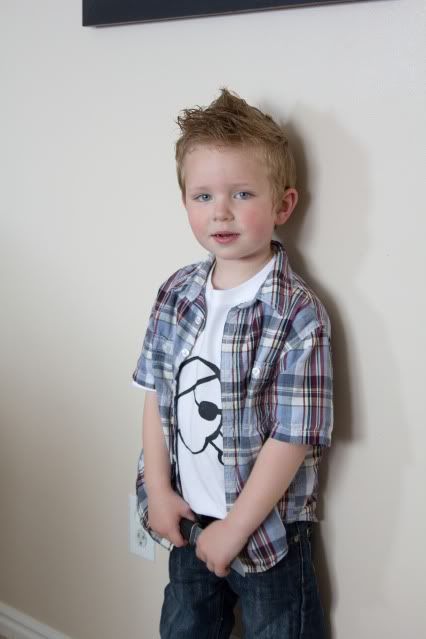 Happy about the cake!
Had I actually used my brain I would have frosted it in chocolate frosting before adding the fondant wood planks. I'm just not a big chocolate frosting lover so I never use it...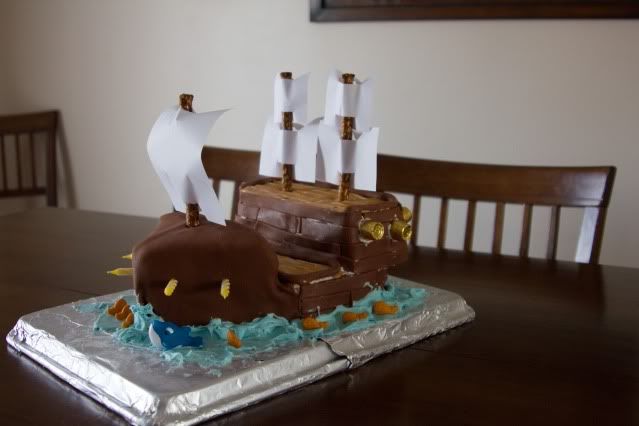 Dressed up in some of his pirate "ingredients" :)
Happy Birthday, sweetie! Love you!