Yay for gardens! This is probably the first year I'm actually saying that! I can't believe how well our garden has been doing. Well, I guess I can because it's the hardest I've ever worked in it which I'm sure makes a difference. Go figure, huh?
I know it's silly, but I was just so excited today about it that I took some pictures of what we've been getting. Don't laugh or continue reading if you don't like dorky things like this, but I really was just proud.
This was the leftovers after my first picking. I used about 10 big beautiful tomatoes for fresh salsa! I used all of these to bottle 7 pints of salsa. (I used the flash on these and they look a really deep, weird red...)
These were from today that never even got used. I thought I would have to put them with the earlier ones for salsa, but nope! I didn't have enough peppers or they would have just been salsa too.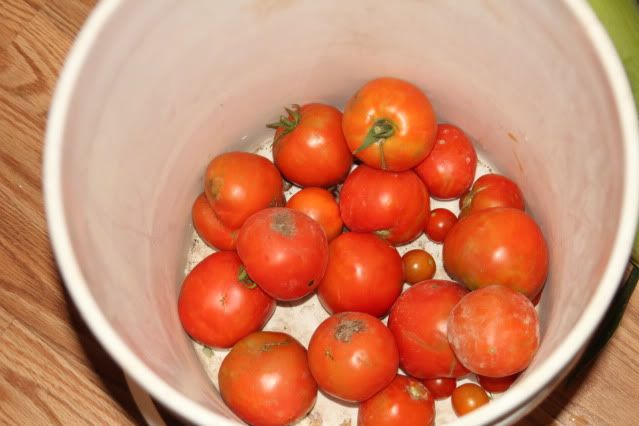 Our first 4 ears of corn! The kids were excited...they love it!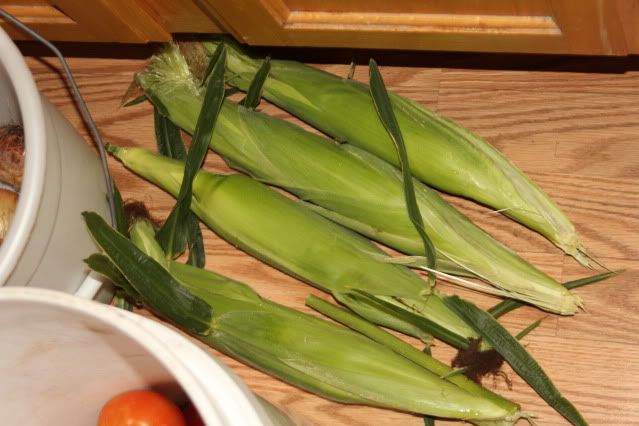 I have a bunch more onions out in the garden that are ready, but waiting until I need them...these all went to the salsa minus 1 or 2.
Earlier in the week we had our first picking of beans. I only got 8 pints, but if I got 8 pints every week for a couple of weeks that would sure add up! Crossing my fingers for a lot more this week though... I know it's really dorky, but I really enjoy canning. Keith's mom has taught me how to do most of it and I'm very thankful for it. It also really reminds me of my grandpa. My favorite thing to can is probably green beans because that smell reminds me so much of his house. And I love that my kids always want peaches because I remember every time we would go visit grandpa he would pull out a bottle of peaches!
Ahhhhh...we LOVE salsa around here. I'm thinking my next batch will be spicier...this was way more mild than I thought it would be.
I have also picked about 6 or 7 zucchini
and probably 2 pints worth of cherry tomatoes. We had the lettuce earlier in the year and have only had about 3 strawberries :) It was a free plant from IFA and I've never tried them before so no biggie. Gavin's pumpkin plant that he started in school last spring is GINORMOUS. I'll have to go out and get a picture. There aren't very many pumpkins on it for how large it is, but there is one that is getting REALLY big and a couple of other small ones. Gavin is so cute and loves going to look at and water his plant. It's been fun since we've never done pumpkins before.
Also this year we're getting more fruit than ever on our trees! Our biggest and best looking tree is our apple tree which still has NO apples :( We have quite a few peaches
and some pears too!
I wish we could have a garden all year round!