We haven't had much vacationing time this year. That's sort of a lie because I feel like I've been gone a lot but those trips were for church and more work than "relaxing". (Not that I didn't thoroughly enjoy myself!) My mom was planning a trip to Mexico and I jokingly told her I would come and "house sit" a few months ago. She called me up one day and asked if I was kidding about that because she did want someone to water her plants. I decided I definitely would enjoy it so why not? The kids and I went down for a week and Keith joined us for one night. We had a BLAST! It really was very relaxing not having to worry about appointments, or babysitting, or going anywhere, or cleaning my own house. It was so much easier to keep my moms house clean than my own! And have I mentioned the pool??? It was like we were staying in our own private hotel with a private pool! There was literally not one day that we didn't swim and the kids were so much fun. I can't believe how much they are growing up and how much fun they can be. They both are like little fish in the water and go all around the pool with their arm floaties. Thanks, Mom and Alan for allowing us to stay at your resort for a week!
When I walked in through the garage I could see straight in my moms room which she had set up all cute with chocolates on the pillow....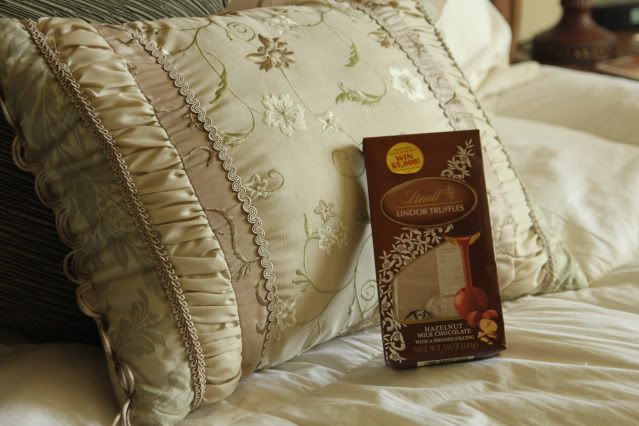 And bath supplies set up...
I quickly learned I would have to hide all of the candy jars or Max would be on the counter constantly...apparently almonds are equal to candy...
Proof that we did do our job as well as relax! Gavin was so excited to help me water every day...
Mom! Can you please put the camera down and take me swimming?!?!
You would think looking at this picture he had never seen a pool before!
So cute!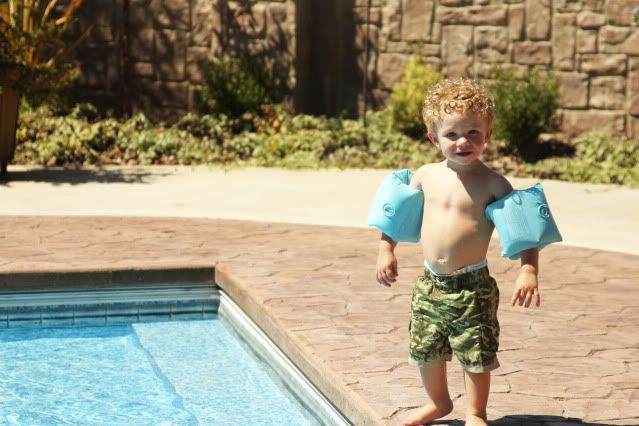 Always wanting to show off his tricks..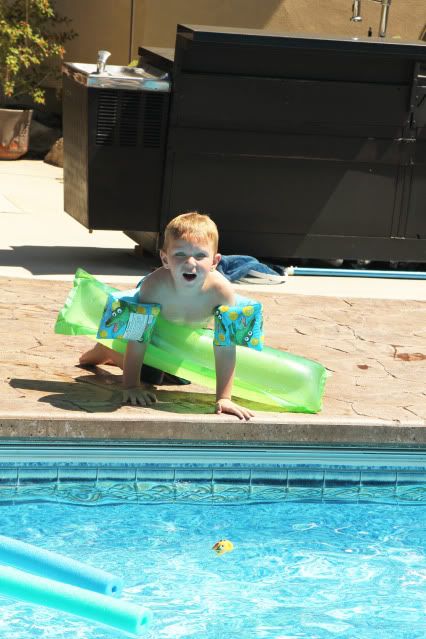 Splash!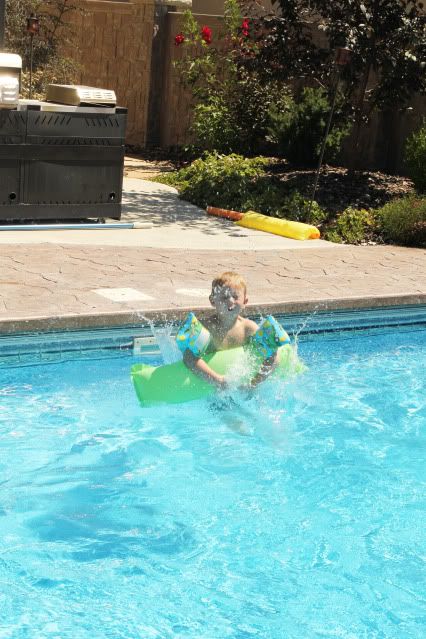 Getting ready for the slide...
Down he goes!
Water...meet Gavin...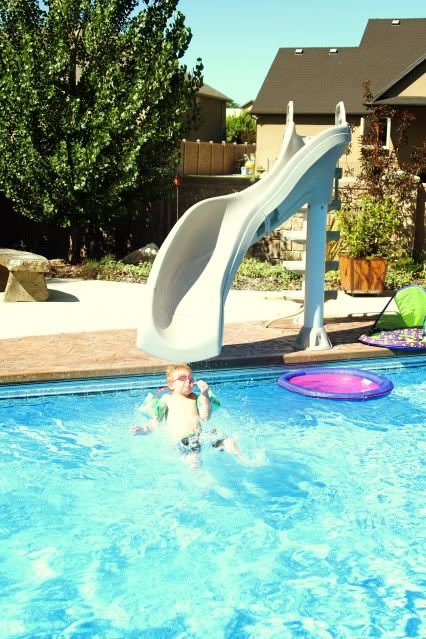 Being so brave after he got stung by a bee :( He only cried for a minute and then I googled remedies for bee stings. It said to put toothpaste on it. He thought that was hilarious and cheered him right up so I'll never know if it took the pain away or just seemed so silly he forgot all about the pain....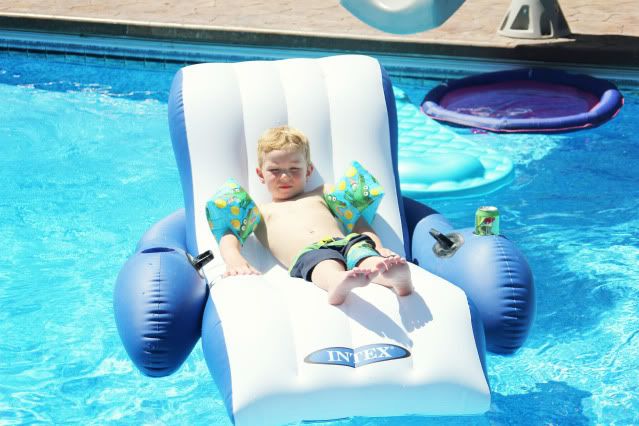 Sometimes I think the kids forgot we weren't in the pool....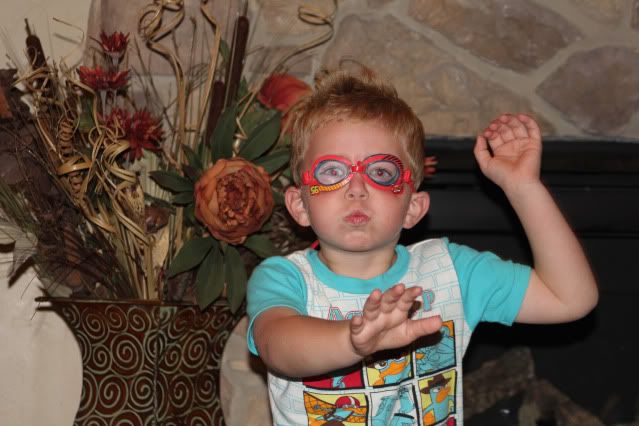 And they did take quite a few breaks from the pool to watch a movie or two, or 50...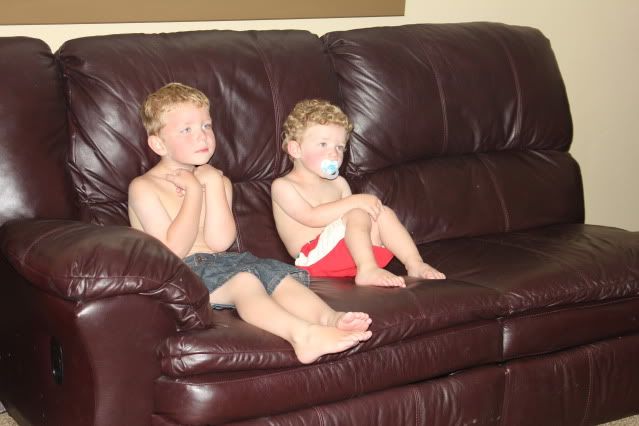 And you would think having a pool in the backyard was enough, but Grandma's big bath tub was always calling their name!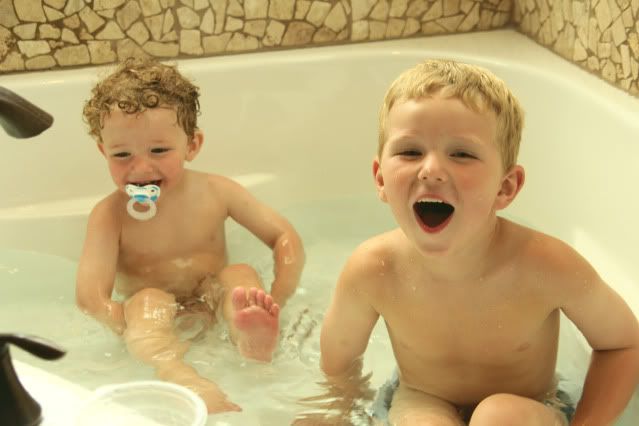 Thanks again Mom and Alan! We love you guys!