Yes, that's right. I went on Trek! I was excited last year when I found out our ward was doing Trek until I realized I was just a Beehive leader and wasn't going to be going. I mentioned that I would love to go if they found a reason to need me and nothing ever came of it. So I never planned on going and then one month before our ward was to go, I got a call from the other YW counselor asking me if I still wanted to go because she was pregnant. She had already talked to the Bishop and mentioned I would probably like to go. Was I excited? Yes, but a little reserved as I only had one month left to prepare! But prepare I did, and I can honestly say now that I would have missed one of the most amazing experiences of my life had I not been able to go! And just a note...this post will be LONG
DAY 1
We started on a Wednesday morning at 4 am with a 6 or 7 hour bus ride. I had felt so nervous about it all the night before, but was really excited that morning. No way was I sleeping on the bus and later in the ride a couple leaders and one of the YM enjoyed a friendly little game of Phase 10, which I was kicking butt at, fyi.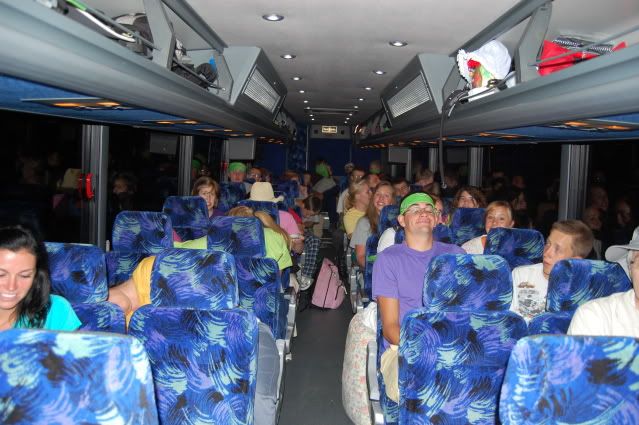 We ate our lunch on the bus and then shortly after arrived at Martin's Cove. The church owns this land and they have a visitor's center, etc. there. We had a short introduction by one of the missionaries there and then began our first walk of many. This day was only 6 miles. There were a couple of teaching moments along the way presented by some of the leaders and the stake YW leaders. One of the most spiritual moments was when we actually entered the cove and learned of some of the people who had stayed there and were buried there. It was so hard for me to hear the stories of children suffering. As a mother, all I could think about were my own boys and how I couldn't even imagine having to watch them go without and suffer as so many families did. One story I loved from the cove was that of Sarah Franks and George Padley. They were crossing with the handcart company to come to Salt Lake and be married in the temple. George died in Martin's Cove and the ground was too frozen to bury him. Sarah could not bear the thought of leaving him for the wolves and had him wrapped in her shawl, something she could desperately use in the frigid weather, and placed in a tree. When President James E. Faust was told this story he said it was one of the greatest love stories ever told.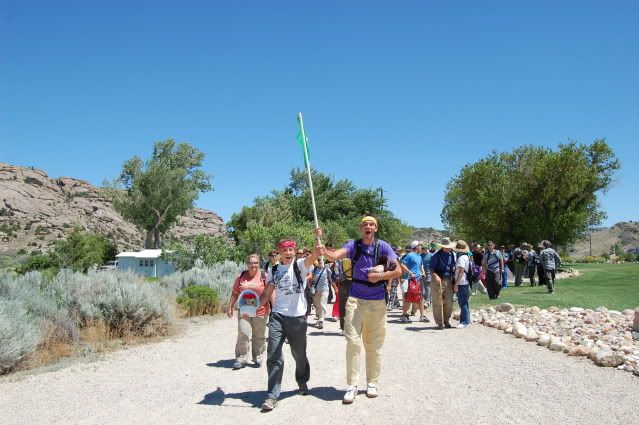 We had the opportunity to do a river crossing while there and learn a little about the 4 men who were the "rescuers" and carried so many through the freezing water. I can only imagine how grateful those people must have been for those faithful young men. I think they intended for the YM to carry the YW across but the water was pretty high and swift so everyone crossed it alone. The YM did come back to help carry some of the YW's bags across though. I remember watching one of the YM who is really tall go across and seeing how high the water came up on him. It was a neat experience and although the water was cold, I remember thinking how terrible it would have been in the icy winter.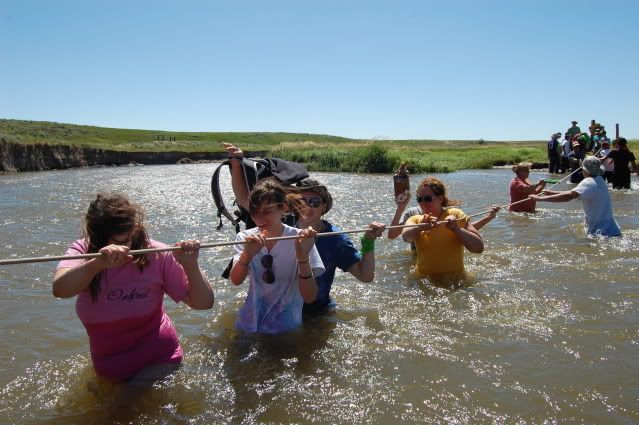 We had a short walk after the river crossing and with the wind we were all dried off in time to get back on the buses and drive for about 45 minutes to our camp. When we arrived at camp our tents were all set up for us and dinner was waiting! We had the best support crew and food committee. Dinner that night was Pot roast, mashed potatoes, gravy, corn, and rolls, with brownies and ice cream for dessert. It was WONDERFUL! (Especially after hearing stories of how back in the day some wards would give their kids only 4 oz of flour one day on their trek, just like the pioneers...you couldn't get away with that nowadays!)
Bro. Cluff and his sister wives....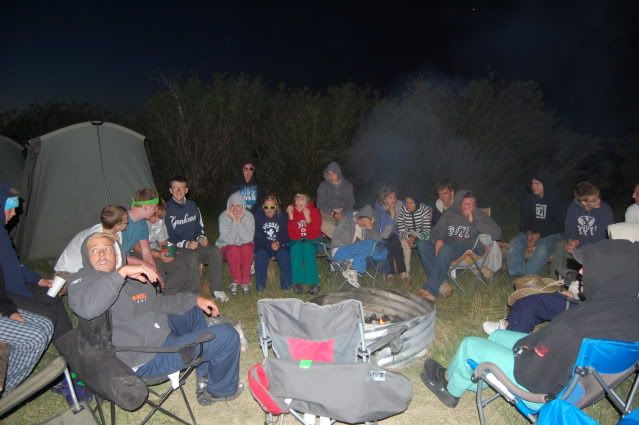 There was much excitement and anticipation in camp that night. I think for finally being there and knowing that tomorrow was going to be a very LONG, hard day. But we were ready.
DAY 2
Starting out
We were up at 5 am as we were the first ward out that morning. Breakfast was HUGE...I have no idea how anyone could eat that much food. French toast, yogurt, pop tarts, juice, sausage...I swear there was so much food. I never finished a single meal. Some might criticize this and say how are we supposed to know what it was really like for the pioneers, but I love our stakes attitude that it's not about breaking us. We don't need to be like the pioneers to feel the spirit of these places and the trek. I think it ties perfectly into a quote I read in preparing for Trek. President J. Reuben Clark Jr., First Counselor in the First Presidency, reminded us: "In living our lives let us never forget that the deeds of our [pioneer] fathers and mothers are theirs, not ours; that their works cannot be counted to our glory; that we can claim no excellence and no place, because of what they did, that we must rise by our own labor, and that labor failing we shall fail. We may claim no honor, no reward, no respect, nor special position or recognition, no credit because of what our fathers were or what they wrought. We stand upon our own feet in our own shoes" (in Conference Report, Oct. 1947, 160). Something about that just really stuck with me.
We began our Trek that morning leading the pack. I was so impressed with our youth. I honestly feel like they all really took the initiative to get themselves ready. I have never know young people like these. They amaze me every day with their strength and dedication to the gospel. I think rather than the long hard days of walking being difficult, for our ward it was more of the constantly waiting for everyone else to catch up that was hard. There are certain restrictions on parts of the actual Oregon trail where there can only be so many people at once and we had to be led my missionaries on horses. It was frustrating and we had to be reminded to stay positive about it, rather than complain about waiting for the other wards. One thing I loved about this day was that I got to walk all of it with one of my very best friends, Julie Baucom. She is a counselor in our Stake YW's and they got to walk this day with their wards. I love her and it was so great to be able to spend the day talking with her and sharing this experience.
Me and Juls
I also gained some new relationships with so many of the youth. Since none of them were kids that I am typically a leader for, I really enjoyed getting to know them. We also frequently saw our stake president and his wife. I love how "normal" they are. I remember our stake president passing by us and saying to him, "Hey Pres! I-dent. I guess I should be more formal!" He just laughed and said "Got it!" and went on his way. Sometimes I forget to be respectful when I am so comfortable with them! This day really was mostly just walking. We had a few teaching moments and the whole idea of what we were doing made it spiritual, but I was not overly emotional or anything. By the end of the day (16 miles!) I was exhausted! That last half hour of the journey did me in. I felt great the rest of the time, but that last little bit I got a pain in my lower back on the left side. I made it and it wasn't so unbearable, just uncomfortable. There was nothing like walking down into camp that day and seeing everything set up for us. It really had been exhausting. I had no idea I even had some blisters until I got back and took off my shoes. I really think the only reason I even got them was because my back had been hurting and I started walking differently. Let's just say I was not the only one who got blisters and mine were not nearly as bad as some of the others.
We ate sloppy joes and just relaxed. We had a bit of a scare with one of our girls hyperventilating and another who had just had a rough day. Thankfully all was well and our ward had NO dehydration issues! Our biggest first aid issue of the whole Trek was blisters. I had developed some good friendships with some of the girls throughout the day and spent the evening talking and giggling with them and then playing a few games with the youth. It was a blast and sometimes I had to remind myself that I was a leader and not just one of the kids :)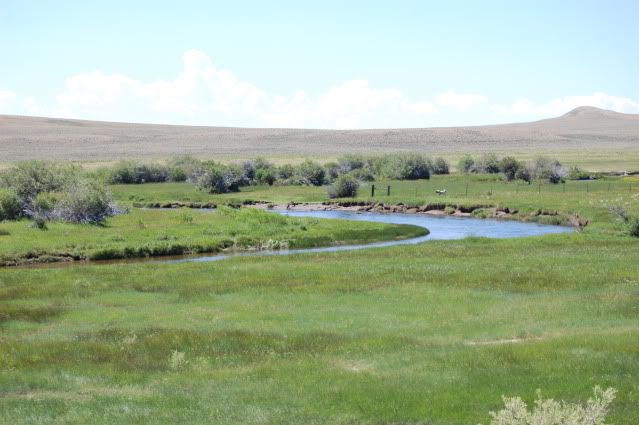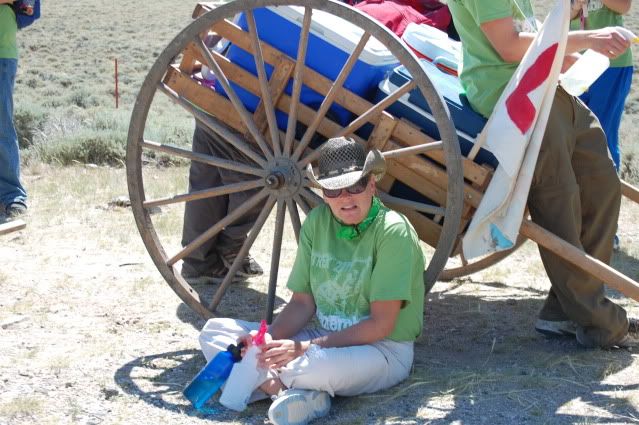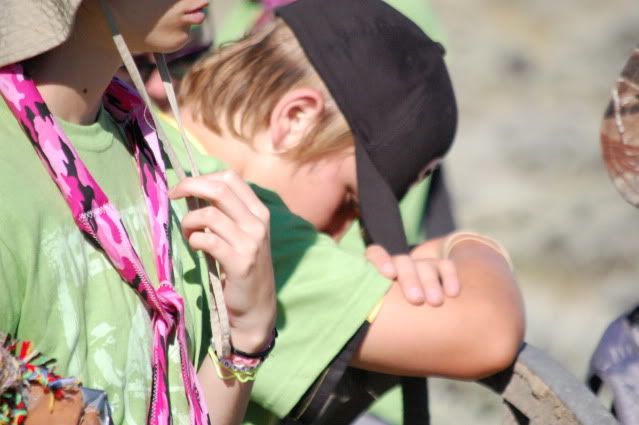 Our stake president with his wife and son...Love them!
I don't even have words for this picture other than I think the leaders sometimes have more fun than the kids....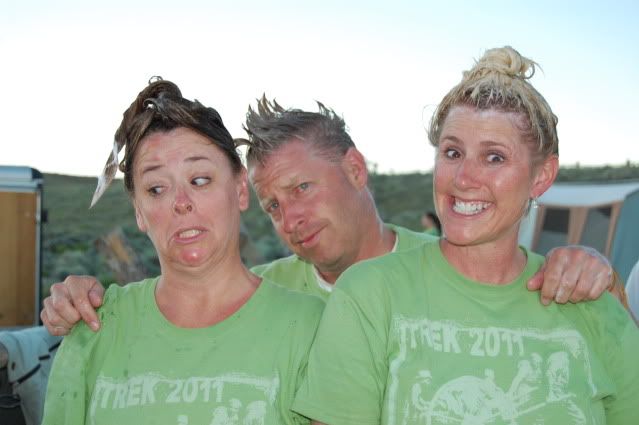 DAY 3
When we woke up that morning I was pretty sure my blisters had tripled in the amount that I had thought I had the night before. It was hilarious to watch all of us doctoring up our feet with moleskin and duct tape. One of the YM leaders had them the worst and our nurses were getting him taken care of. Our ward trek master gathered us around to talk about the day and mentioned that we did have one person who had asked for a blessing to be able to continue walking with us that day. I thought it was the YW who had, had a rough day the day before and was surprised to see that it was this YM's leader. He was given a blessing and it was a very spiritual moment. I thought of how great it was for these youth to see this strong man be humble enough to ask for a blessing. Or maybe it was just good for me to see. In any case, it started off my "Day of Tears," as I'll call it.
Kody's poor feet...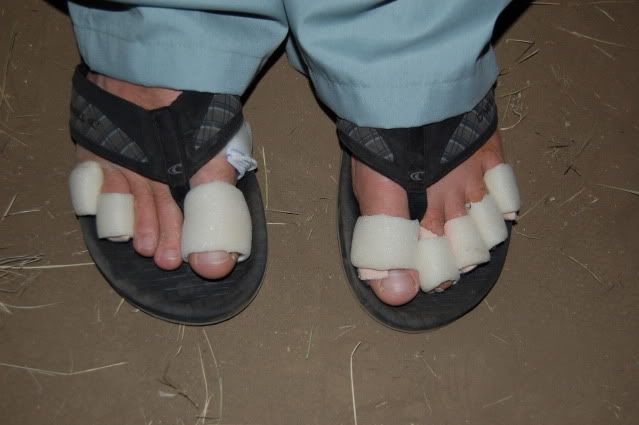 We were in the later group this morning and as we started off I was fairly certain I was not going to make it! Physically I felt great, but my feet hurt SO BAD. I noticed after I would walk for a bit they would kinda get numb and then it wasn't so bad. Then came the waiting and stopping again. That was so hard to stop and then have to start moving again. All I could think about was that the pioneers did this day in and day out and I could too. Then after awhile even that got hard as I would start to rationalize, "Well, they were used to walking, they walked everywhere!" or "It was so cold their feet were numb, it didn't hurt." Terrible, huh? I compare that to Satan trying to get us to rationalize what we are doing or what we believe. After that wasn't working I just kept thinking that my dad has been out and done this and if he could I could. I couldn't rationalize anything in comparison to that so it worked better for me.
This day was Rocky Ridge and the Women's Pull. You could tell there was a lot of anticipation for this. Luckily it was early in the day when we were doing this and not in the heat of the day. Due to BLM restrictions we had to do a bit of waiting again for the 1st group to be off this portion of the trail. I think it was really hard for the youth to wonder what was coming up and be anxious for it, but they were all in good spirits. Before we started up the main steep climb of Rocky Ridge we had a teaching moment from Sister Proulx (aka the best neighbor anyone ever had...). She talked about Jens and Elsie Neilsen and their experience with Rocky Ridge. Jens had become very ill and weary and told his wife to just leave him and go on. She couldn't bear the thought of leaving her husband behind to die and pulled him alone in the wagon up Rocky Ridge and for a week until there was room in the sick wagon. All I could think about was had that been Keith and I and could I even imagine leaving him by the road and going on? There is no way I would have left him and I thought of how hard it would be for him to have to let me pull him in the handcart and struggle because he physically couldn't. I was crying the whole time she gave this lesson and I didn't stop the whole way up Rocky Ridge. The girls had to pull their carts up alone and the boys were to walk alongside, but weren't able to help. The fierce determination those girls had was amazing. I was filming in the back for Jeri and the last cart had 3 girls, one of them just a tiny little thing, and I was just in tears watching them. They were so tough and made it right up the ridge. I was so amazed with their strength. Once on top of the ridge, one of the boys started playing "Come, Come Ye Saints" on his harmonica and a few people sang. We had a quiet moment of reflection and then a spiritual moment. Some people were in tears while others were not. There were even a few comments about how they wished it had been a little harder! We heard a story of another ward in our stake where there was an inactive YM who had come on trek and when they got to the top of Rocky Ridge he was just bawling. His mother had passed away before trek and he said that he saw her helping to push the handcarts up the ridge. What a great experience for that YM.
What tough girls we have!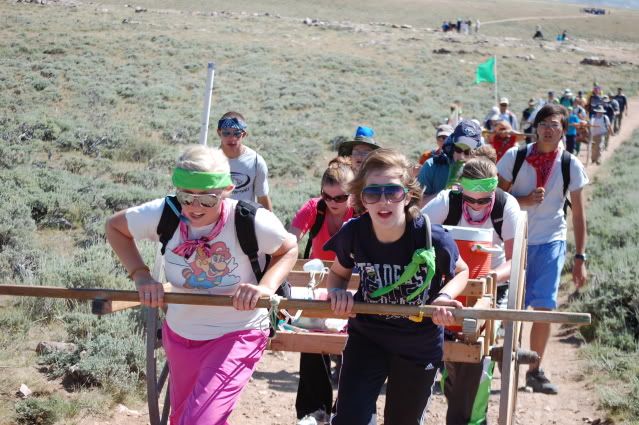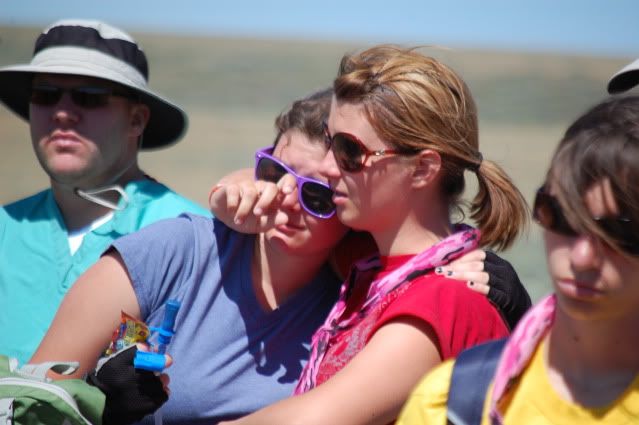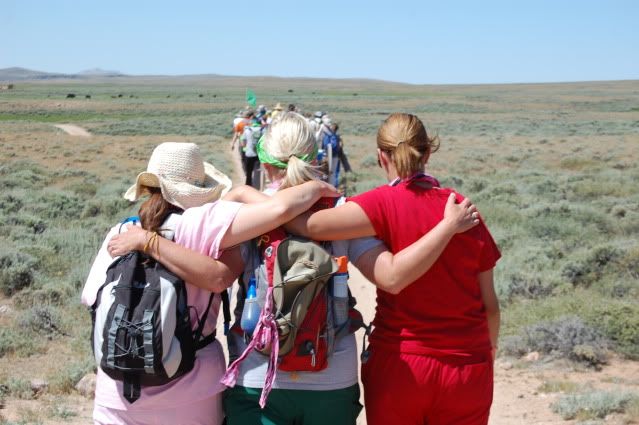 The rest of the day was spent mostly just walking. There were quiet a few muddy bogs that we had to go through and we had our "Bog Boys" who always helped to get the handcarts across so everyone wasn't getting muddy. It got harder and harder to go on as the day wore on (again physically I felt fine, just tired, it was just my feet). I walked a few times with the YM's leader who had all the blisters and that always made me think I could keep going because he was still there and had it worse than I did. As we neared the end we saw 3 people walking up over this hill towards us and saw that it was our wonderful support crew coming to meet us. That really bolstered our spirits to see them and know it must not be far off. They said we had about a half hour of walking left and everyone really was determined then. I remember one cute YM who every time we would come up over a hill would say, "Look! There it isn't!" Finally one time, there it was and we were able to walk down into Rock Creek Hollow, greeted by so many of our stake people. I cried and cried, seeing them and knowing we had made it safely, without serious injury and everyone had done it. I was so proud of our youth and their willingness and determination.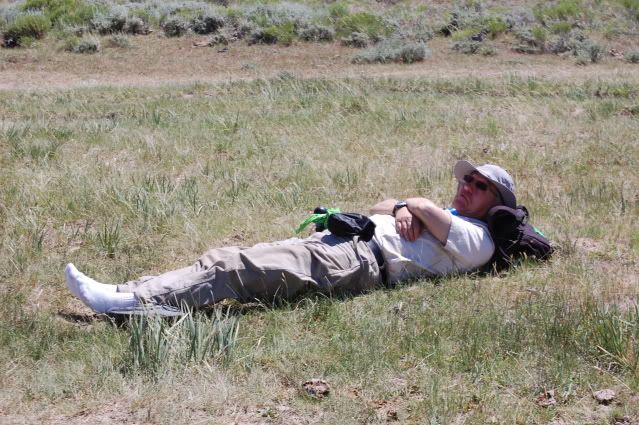 Our emergency potty set-up...and silly Tania! I had to laugh because every time we would set this up, all of the other wards would come over too. I wondered if they just thought it was easier to use our set-up or they really didn't plan for anything....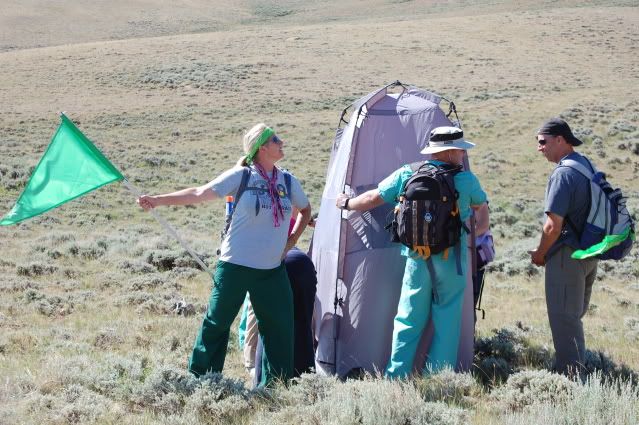 Some of our bog boys...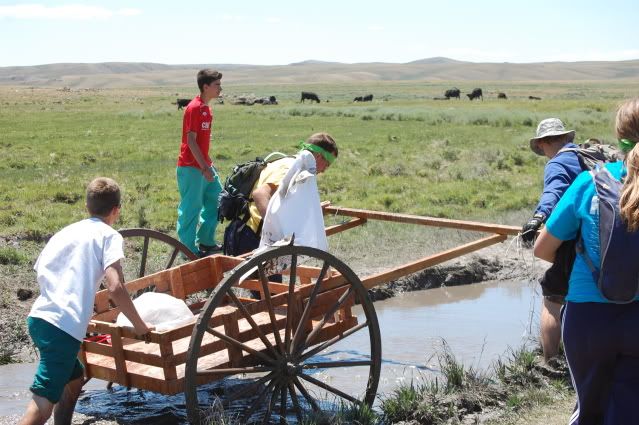 Our support crew coming out to meet us for the last of our journey...yes they are skipping :)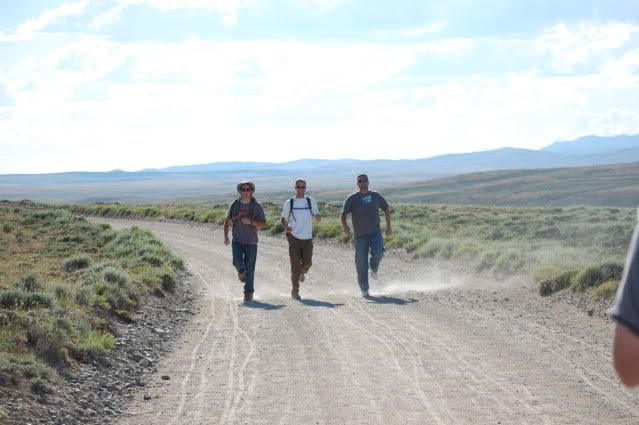 Our camp was about the furthest camp from the entrance and I pretty much thought there was no way I could walk anymore once we got there. I didn't even want to look at my feet and never took off my shoes because I figured there was no way I would get them back on. We went off to dinner and it was yummy Cafe Rio style burritos strawberry shortcake dessert. After dinner we went to visit the common grave and the Remember monument. The feeling you felt when you walked into this place was so peaceful and spiritual. Everyone was asked to remove their hats and be reverent and you wouldn't have probably even had to mention that the spirit was so strong. We sat in front of the headstone for the Common grave and heard the stories of the 13 people who are buried there. Once again, I was an emotional wreck. This for me was definitely the most spiritual moment of the journey. The story that really stood out to me was the one of this 1 little boy who was buried there. His mom had to pull their handcart and told him that he was in charge of watching his younger brother that day. The younger brother was cold and his feet were hurting, so his older brother carried him on his back most of the day. When they got to Rock Creek Hollow, he put his brother down and sat to rest and died from the effort and exhaustion of the day. All I could picture was Gavin and Max and had that been them how I would have felt as a mother. I could just see my sweet Gavin caring so deeply for little Max to help him. Also near this common grave there are 2 other graves marked with wooden fences that they found later. These were the men who had died after digging the common grave that morning. I can't imagine the pain and sorrow these people went through. I wonder if I may have been a bit more emotional knowing that I had ancestors in the Willie Handcart Company and knowing that they had been there, and interacted with these people. There is a rock monument there called the Remember Monument which Pres. Hinckley dedicated. It was mentioned to us that people consider Rock Creek Hollow and Martin's Cove the "temples of Wyoming". We had our testimony meeting at a small amphitheater there and despite the MILLIONS of mosquitoes, the spirit was so strong. I enjoyed listening to the youth and hearing their thoughts and experiences of this journey. My spiritual cup this day of our journey was so full. I had never felt such emotion in one day.
The common grave with the 13 that died one day at Rock Creek Hollow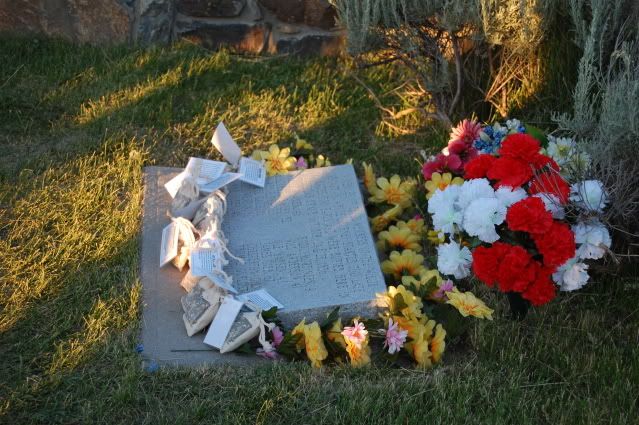 The Remember monument
After our testimony meeting we headed back to camp. It was already late, but the mood in the air was full of relief and excitement knowing that we had done it. We were each given letters from someone in our family. I don't think the kids knew this was coming, but I did. I also knew that I somehow had 2 letters and I didn't recognize the handwriting on one of them, but knew the other was from Keith. I opened the surprise letter and then noticed the handwriting as it was very distinct. It was from my dearest friend Nancy. She had been on our stake's trek before and knew that we did the letters and had made sure to write me one. I hadn't even started to read, just noticed it was her writing and started bawling. She is always so wonderful to think of me and I knew that she had felt sad that she wasn't going to be there. For those that don't know, she was our former Primary President and I served as her secretary and my friends Julie and Susan that I spoke of early were her counselors. I have never served so closely with people before and that was one of the neatest experiences of my life. We all ended up being on the trek this year except Nancy, and for her to write me a letter made me feel like I had her there with me too. So I was already a mess when I started reading Keith's letter and that didn't help anything :) Now do you see why I refer to this as my "Day of Tears"?
FINALLY it was time to take off my shoes. Blister city. I'm still mad because I really think that I wouldn't even have had a stinkin blister had I not gotten that pain that caused me to walk differently. I finally got over my fear of having other people touch my feet, because there was no way I was going to be able to take care of this alone. One of our ward first aid ladies doctored me up. She popped some of them and put this strange gel stuff on them and got me all taken care off. It was not a pain free process and I had to laugh at one of our YW who came over to hold my hand during the hard parts and says to me, "You look like you are giving birth." I guess I could see how it could be compared and we all had a good laugh about it. Especially with her there "coaching" me through it all! She got a big kick over the bishop asking her the next morning, "So how was the delivery?" I was very thankful for her spunky attitude throughout my painful experience.
No one seemed to want to go to bed that night and we all had a good time laughing. Finally we sent the kids to tents and the leaders were still up around the fire. I finally went to my tent with my roomies and next thing we know there is something going on outside. We hear the YM's president say, "Are there boys in that tent?" So he and Cory went over by the tent (which was a girls tent) and pulled the post out so the tent just fell on the kids. No one moved for a moment and then the 2 girls who were the occupants of the tent scurried out. Next another YW popped out and surprised everyone. Then next thing you know...out come 3 YM! You have to realize this was a TEENY little 2 person tent and everyone was surprised there were so many people in it. It was all innocent and the leaders were laughing so hard. Especially when we realized that the YW's president and YM's presidents sons were involved. Not to mention one of the girl's dad is in the Bishopric, another boy's son is the bishop and one of the girls is the daughter of our previous bishop! The best part was when the YM's pres was talking to his son about it and the son replies with, "Well, dad, you said get in tents, you never said it had to be OUR tent!"
DAY 4
The last morning was just breakfast and clean up. Then we had a short meeting with the entire stake in an amphitheater there. I always enjoy hearing our stake president speak and it was nice to acknowledge everyone who came just as support crew, medical and the food committee. They deserved so much credit for their hard work. Afterwards we just had a long bus ride home which meant we could finish our game of Phase 10 which I had been doing so well on and ended up losing MISERABLY!
All leaders and stake people from our ward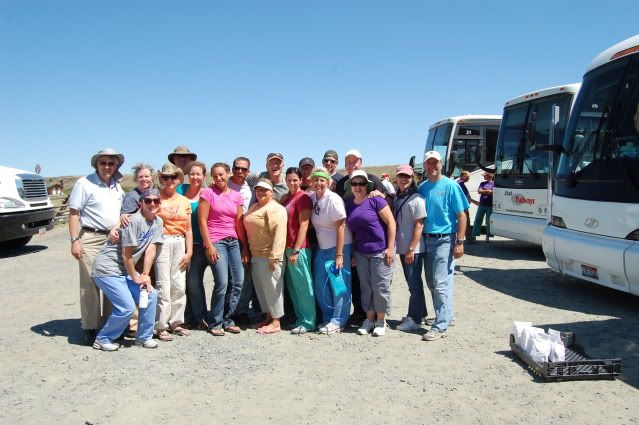 Our ward families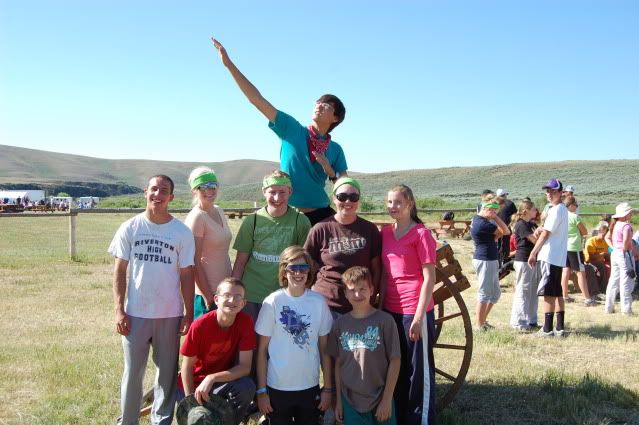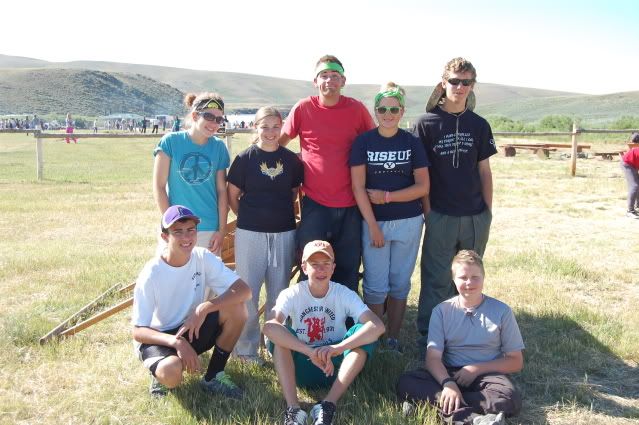 A couple of things I don't want to forget that I wasn't sure where to fit them in:
The whoopie cushion. Marie brought a whoopie cushion and Jeri thought it was the greatest thing ever invented the entire trek. We even sent her over to fake out the stake president. She walked up and said, "President, I think I have a tummy ache and set it off (it was hiding in her hoodie). He just smiled and said, "Well, I guess you do!" We showed him that it was really the whoopie cushion and he got a big kick out of that. What a good sport and great guy!
Shadow puppets...Jeri (can you tell she's always the life of the party???) was doing shadow puppets on the tent ceiling one night. She kept trying to make one of them be Travis (YM's Pres) and every time she would do his voice, he was British. She couldn't not make him British. It was hilarious!
A couple of the girls said I could be their mom since they didn't have them there. I loved that...made me feel needed and important. One of those girls was a cute one named Alyssa. She has arthritis and was so tough the entire time. Out of everyone she really inspired me. There were so many times we would make her get in the cart for awhile just to give her legs a break and she would always fight us on it. The kids thought it was actually easier to have someone in the cart because it helped weigh down the back and bring the handle up higher for them. She would protest and frequently get out shortly after we would make her get in. Towards the end on the last day we were trying to make her get in again and she said she wasn't getting in unless I got in with her. So I did and it was then I realized why she was always protesting. You felt so bad having people cart you along while you were just sitting there. It really wasn't any harder for the kids to pull, but you felt so useless and terrible. We weren't in very long before I just couldn't take it anymore and I think she was grateful that someone finally understood.
Me and Alyssa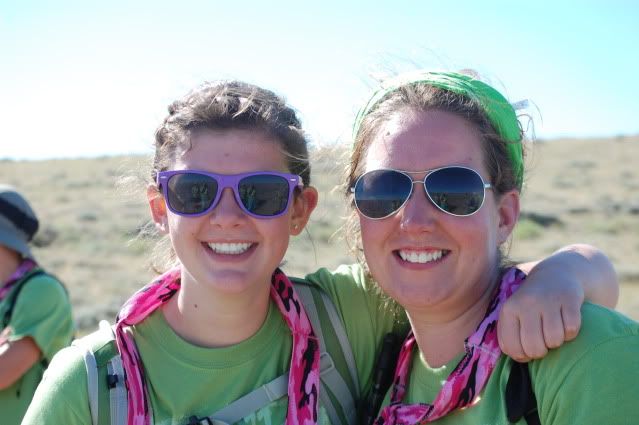 I'm am so incredibly grateful I was able to go on Trek and have these experiences. Especially to experience them with the people that I did. Thank you everyone who helped me along the way and encouraged me. And not to be forgotten was my sweet sister who took the boys for half of the time I was gone and Keith who had them the other half. Even though they are his kids, I know that it's not an easy task to have. I wouldn't have been able to enjoy these experiences without their help and support.