Another year, another Smith Family Reunion! This year we went to Heber Valley Camp. It's a camp owned by the LDS Church and mostly used for girls camps during the summer. W.O.W was all I have to say! It was really awesome! We had a camp that had 3 cabins, each with 16 bunks and then there was a large pavillion with 2 food storage areas, both with a fridge and shelving, bathroom, stoves, and showers. It was really awesome. Here are some highlights:
Not only do they have camps set up, but they have these Challenge Courses. We did 2 of them (well I crapped out on the second one due to the rough night with the kids and needing to leave before I totally lost it with them...) but the course that I did participate in was really fun! We did the giant swing where we got to be hoisted way up to almost the top of a tree and then dropped to swing back and forth. I don't really get too nervous about that kind of stuff (especially after ziplining a million feet in the air over Mexican canyons...) so I wasn't scared and hopped right up. Um...wow. It was definitely an adrenaline rush! You don't realize how high up it is until you're almost to the top and then when you are swinging forward there is no voice inside you to even scream with. It was awesome! Definitely more of a rush than I expected!
We played a hilarious game one night with the adults called "The Game of Things." I haven't ever laughed so hard in my life. It was ridiculously funny. Poor Mom and Pops Smith were trying to sleep while we were playing...I don't know how they did it! Let's just say, I will probably never look at some of my family the same way again.
Of course a highlight for me would include food...my brother-in-law Scott made a FANTASTIC Blackberry cobbler. To. Die. For.
MaryAnn planned all sorts of fun activities like a Scripture Scavenger Hunt (which we won...not bragging or anything. (Cobbleys are just competitive, right Dad and Amy?) Each family made a Marshmallow Catapult and we had to see who could shoot the farthest. An animal craft for the kids to do. A Getting to Know you Bingo and a hike. She really outdid herself. Everyone who is in charge of it each year really does a great job. Thankfully I still have 2 more years. Ugh...I'm already dreading being in charge. But I definitely wouldn't trade the experiences I have getting to know this side of our family. Everyone is so unique and adds so much to the bunch.
I was thinking a lot during this time about each family member and trying to notice all of their good qualities. We really are blessed as a family to have such a great group of people. I hope that they all know how highly I think of all of them and appreciate all that they do for me and my family. I couldn't have asked to marry into a better family. I'm pretty lucky and not sure how I ended up that way.
Max was sleeping during the hike so I stayed with him. Gavin picked me some flowers along the way.
Cute little craft the kids did.
Just to prove I was actually there.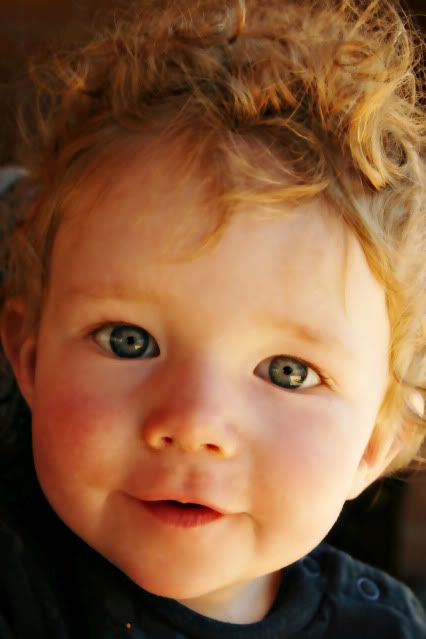 Keith took this darling picture of Max. I had my shutter speed set too slow or it would have been perfect!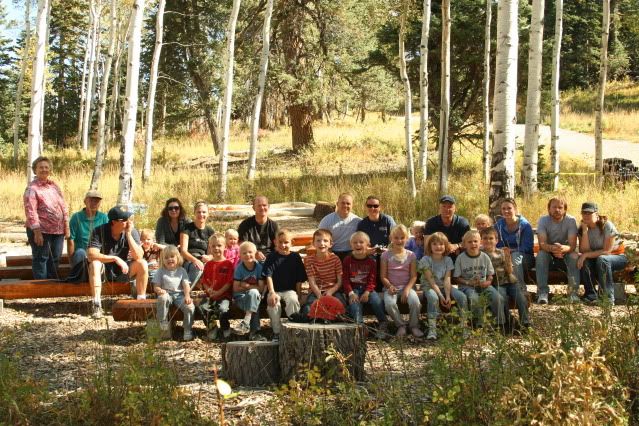 The crew..minus Keith, but hey, you know what he looks like.
This is hard work Dad!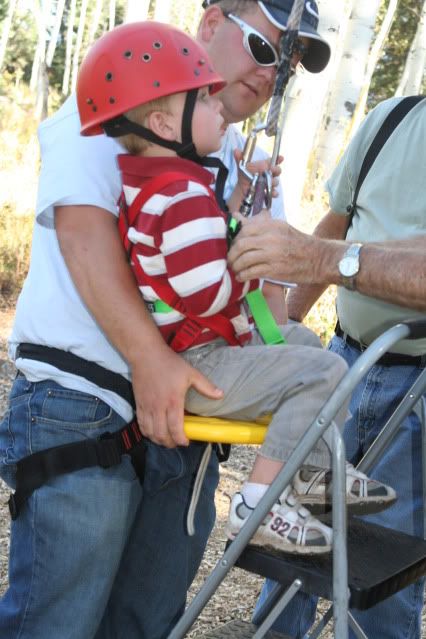 Getting set up to swing.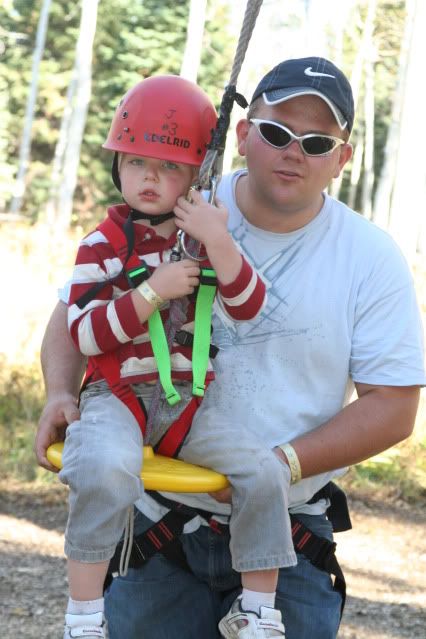 He was NOT too sure about this. I think he thought he had to go all the way up like everyone else.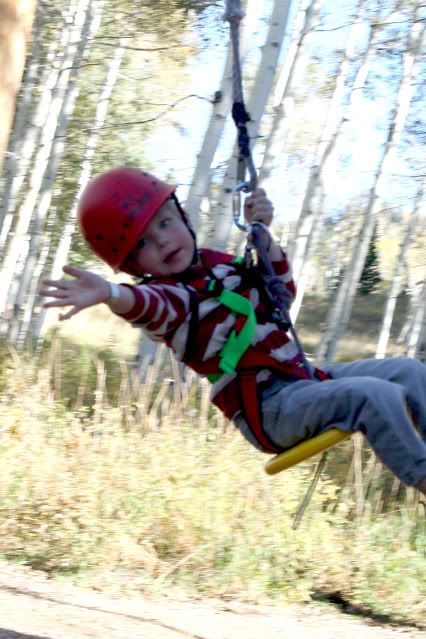 But now he's lovin it!
This was so incredibly fun and a serious adrenaline rush!
Building our families catapult for the marshmallow launch.
Mom and Pops working hard...
Kids playing by the fire...what they do best.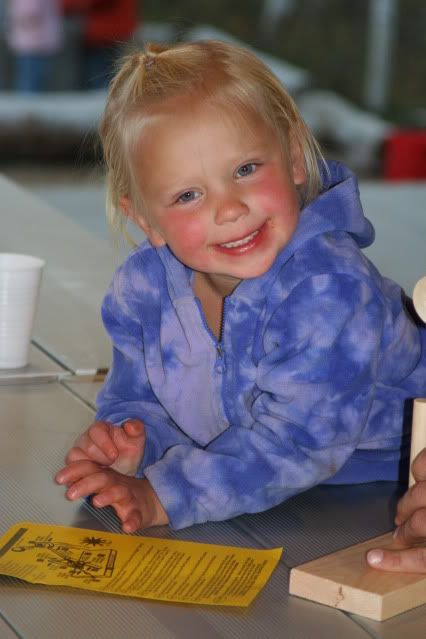 My sweet niece Ashlyn who was so proud of her side ponytail that you can't see in this picture. I just didn't want to forget how cute she was about it!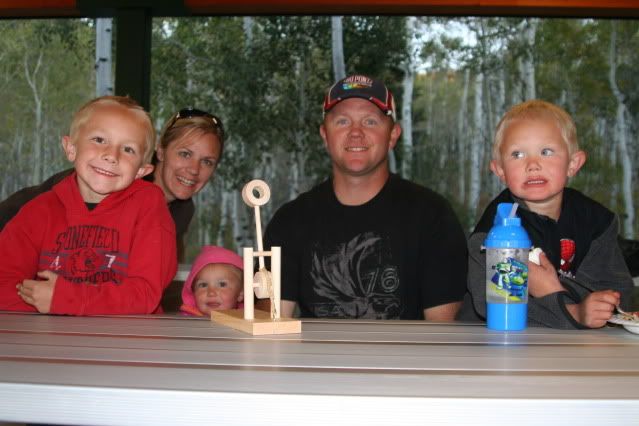 Craig and MaryAnn's family. They were in charge. And by they I mean MaryAnn :)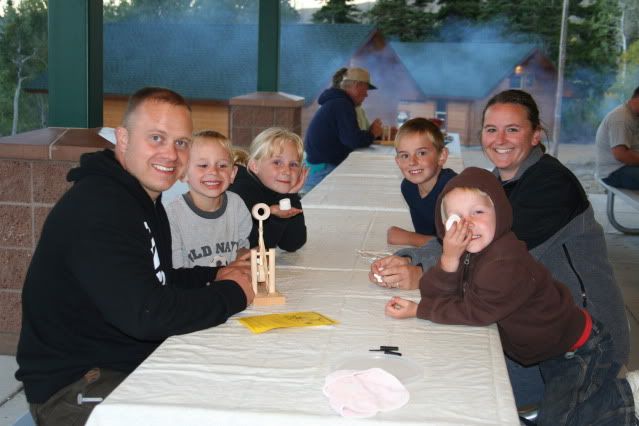 The Stokes Family...for some reason this is all I got of the family shots. I think I meant to take more but got sidetracked making donuts. Yep...donuts.