Last spring, Gavin's teacher had them all start a plant from a seed. Once they had grown a little she sent them home with a little tag saying it was a mystery plant and could be any one of 4 things. Looking at it, I was pretty sure it was some type of squash,just not sure which kind. We were hoping it was a pumpkin and sure enough, that's what we got!
I can't believe how CRAZY big this plant has grown and luckily the things planted around it were earlier crops so when the pumpkin plant grew all over everything it was ok. It's blending in with my zucchini plant, but we are still able to get to those :) 3 pumpkins grew on the plant and have completed turned orange. I noticed just the other day that 2 others were growing and since they have grown bigger than they were since I noticed them, we decided to pick our orange ones and see if having them off of the plant would help the others get even bigger. Gavin has been so excited about this little plant that he started and now to have these big, beautiful pumpkins! When we were picking them he said, "Hey! We don't even have to go to the pumpkin patch now!" While were were picking them I noticed yet another 2 that are growing and a teeny little start to another. I can't believe this one plant has produced so many!
For now they are just on our back deck...I'm so paranoid to put them on my front porch since our pumpkins were stolen last year. Gavin was so sad that the special pumpkins he picked out for all of us we gone, I can't imagine how he would feel about the ones he grew! You should have seen how sweet he was showing them to Max after his nap. LOVED it.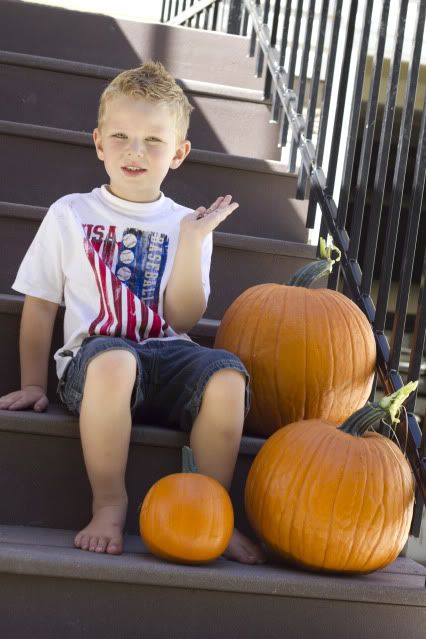 We also made a new friend outside that was hiding under one of the pumpkins....